Complete Guidebook and an amazing informational resource for BUCKHEAD, GA and its businesses, government and other institutions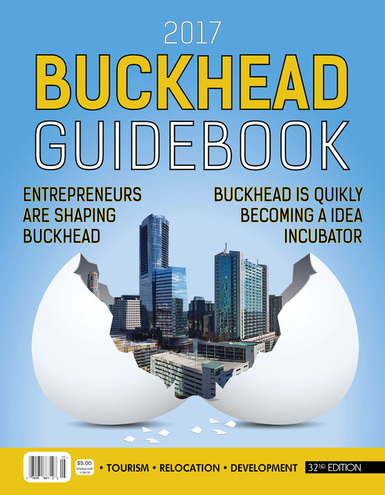 It has been called "the Beverly Hills of the East." Buckhead is, indeed, an exceptional place. It is a community that shines with vitality and vision. Everything is here . . .
and everyone is welcome.

Buckhead Guidebook is a publication that promotes this urban gem to people interested in visiting, working, playing and living in the Buckhead area. From mixed-use developments to serene neighborhoods, Buckhead Guidebook provides the most complete collection of data to be found on this community.

The publication is divided into three distinct sections:
• TOURISM: focuses on accommodations, shopping, dining, attractions, entertainment and history.
• RELOCATION: introduces Buckhead to potential residents with a focus on residential real estate, cost of living, in-town neighborhoods, education, religion and public services.
• ECONOMIC DEVELOPMENT: provides a comprehensive view of economic and commercial development opportunities, along with critical market data, maps and charts.

The Buckhead Guidebook is distributed throughout Buckhead to the members of the Buckhead Coalition, The Buckhead Business Association, Buckhead commercial and residential real estate offices, Buckhead bank branch offices and other Buckhead organizations. Buckhead Guidebook will be distributed at all Buckhead hotels, meeting facilities, local chambers of commerce, the Atlanta Convention and Visitors Bureau and the Georgia World Congress Center. The Guide is also available at major area bookstores. Buckhead Guidebook is the official response piece to inquiries from businesses and families interested in relocating to Buckhead. The Buckhead Coalition and PubMan, Inc. (PMI) market the Guide through advertising on Atlanta.com and other websites.

---
---
If the Buckhead Guidebook is a publication that you are interested in purchasing
an ad in, we invite you to contact Account Executive
Brian Botkin
at

(404) 255-6617
or email at

bbotkin@pubman.net

Time is short, so tell your Ad Department it's important to act quickly.